Last week I was in San Jose for Storage Field Day 2. On the first day of this event we visited a Nimble Storage to get a great presentation about their products. With their Cache Accelerated Sequential Layout (CASL) architecture the Nimble Storage arrays are able to Scale-up as well as Scale-Out, or as Nimble likes to call it Scale-to-fit.
This video from Storage Field Day 2 gives you all the information about the company and their products:
The CASL design
The CASL architecture is designed from the ground up with the advanced technologies (CPU, Storage and Networking) that came available in the last years. This makes that the Nimble Storage Arrays provide great performance and flexibility to the customer. The CASL design is build by technicians that gained their knowledge at companies like NetApp and DataDomain. This is also why many of the best of the technologies from different vendors come together in the Nimble Storage Arrays. Nimble Storage says their product is storage, Disaster Recovery (DR) and backup in on solution.
In the CASL design writes comes into the array in the and lands on NVRAM. There the data will acknowledged and send to DRAM. Within DRAM the data goes through CRC checksum and is Lempel-Ziv (LZ) compressed (2-4X). After this the array writes sequential stripes to the High-capacity disk and the flash layer based on data characteristics. The flash layer is intended for a 100% read cache (effectively this means that 96% is read from Flash). CASL tracks all data hot data blocks inline, providing accelerated reads and sub-millisecond latency. Because all the writes are committed the flash dish act as a JBOD.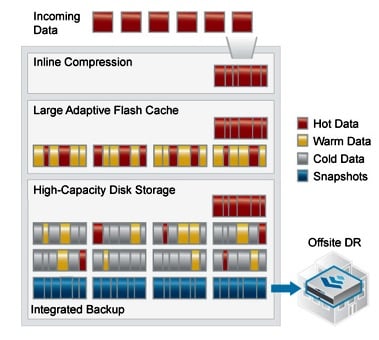 More information about CASL and the Nimble Storage architecture can be found in this second video:
The perfect fit
Nimble Storage makes it possible to Scale storage performance as well as capacity. This makes the Nimble products extremely flexible and economical. By providing Scale-Up as well as Scale-Out capabilities Nimble Storage can easily address all their customers needs. Combining different Nimble Storage Arrays (CS200 and CS400 series) is possible as well as replacing your storage controllers without disruption to add more compute power. Last but not least to you can replace flash and disk drives to upgrade one of these two layers.
Dynamic Storage Pools
Nimble Storage provides the possibility to create storage clusters. A cluster can be logically divided into storage pools. A storage pool consists of one or more arrays over which data is striped. The opportunity to migrate volumes between different pools in a cluster non-disruptively eliminates downtime in case of maintenance or other cases in which an array should be taken offline. By automatically rebalancing data across pools Nimble gives customers the chance to easily expand, shrink or merge pools.
Replication efficiency
Nimble is able through scheduled replicating compressed changed data to a secondary (off-site) system to reduce bandwidth costs for WAN replication and to deploy a DR solution that is low-cost and easy to manage.
An easy way to upgrade
As already told there are many ways to upgrade a Nimble Storage Array. You can do this by either upgrading the storage processors or the (flash) drives. And the great thing about it is that it can be done non-disruptive. This is a great way to start low and aim high. If your company grows, or the demand for more IO or data grows you have an easy way to grow your storage with that.
Here is the last video of storage field day 2 in which you'll get more information on the way to upgrade a Nimble Storage Array:
For more information please visit the Nimble Storage site and the Tech Field Day Site.
Disclaimer
My travel, accommodations, and meals were paid for by the Storage Field Day sponsors. Often there is swag involved as well. Like me, all TFD delegates are independents. We tweet, write, and say whatever we wish at all times, including during the sessions.